Generation Mining has an option to acquire a 100-per-cent interest in the Clear Lake zinc-lead-silver deposit the Yukon Territory. The Clear Lake project, consisting of 121 contiguous claims covering approximately 2,479 hectares, is located 65 kilometres east of Pelly Crossing, and 225 kilometres north of Whitehorse. A dirt airstrip approximately 1,000 metres long was used during previous drilling programs but is now overgrown. A winter road links the property to the all-weather North Klondike Highway at Pelly Crossing, approximately 65 kilometres to the west.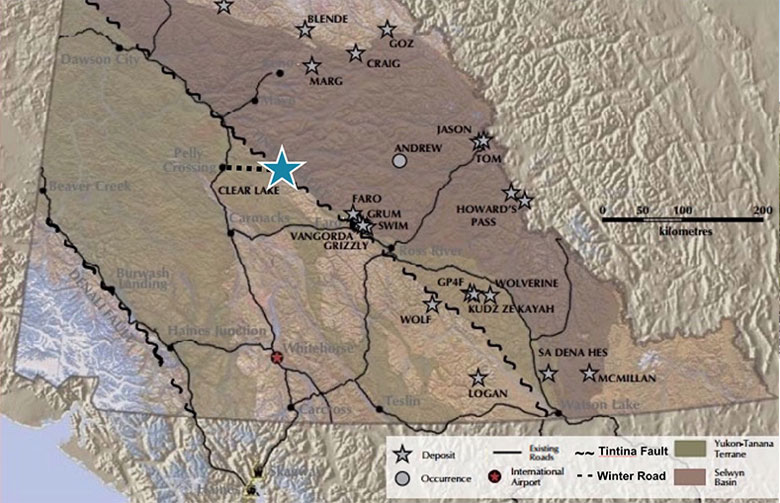 Extensive exploration work by several operators since the 1970s has included 18,219 metres of diamond drilling in 71 holes. The Yukon Geological Survey database reports a "geological reserve" of 5,570,114 tonnes grading 11.4 per cent zinc, 2 per cent lead and 38.01 grams of silver per tonne. In 2010, a previous operator reported that SRK Consulting prepared a report in accordance with National Instrument 43-101, estimating that the deposit contains an inferred mineral resource of 7.65 million tonnes grading 7.65 per cent zinc, 1.08 per cent lead and 22 grams per tonne silver, based upon 63 drill holes totaling 13,168 metres of drilling, using a 4-per-cent-lead-plus-zinc cut-off. Lead grades were capped to 1.5 per cent and silver grades were capped at 60 grams per tonne. The deposit has potential for expansion at depth and along strike (SRK, 2010).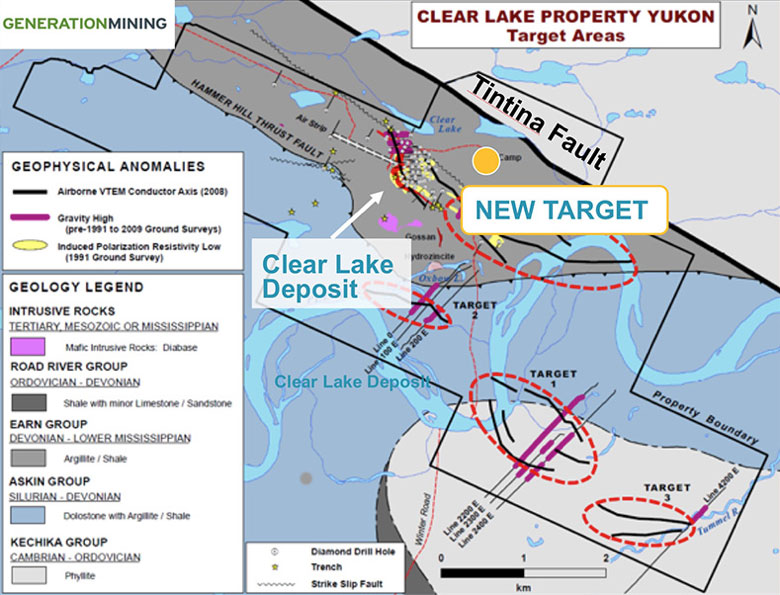 The foregoing resource estimates are historical. The initial historical estimate was completed prior to the implementation of National Instrument 43-101, and the latter historical estimate was not prepared by the company. The company considers the initial historical estimate to be relevant and reliable given the high quality of the historical estimate completed and the latter historical estimate was prepared in accordance with NI 43-101. The company has not independently verified either of the resource estimates, and, therefore, neither can be relied upon as a current mineral resource for the company. A qualified person of the company has not done sufficient work to classify the historical estimates as current mineral resources or mineral reserves, and the company is not treating the historical estimates as current mineral resources.
Clear Lake is a sedex massive sulphide deposit occurring in Devonian-to-Mississippian-aged Earn Group shale. Sedex deposits often occur in clusters at a specific geological time horizon and are a major source of zinc and lead, accounting for more than 50 per cent and 60 per cent of the world's reserves of these elements, respectively. In 2008 to 2009, a previous operator carried out helicopter-borne VTEM and magnetic surveys, followed by a ground program of induced polarization and gravity surveys, in three target areas. Analysis by Condor Consulting Inc. and Aurora Geosciences Limited revealed coincident/complementary gravity, electromagnetic and induced polarization anomalies, characterized as possible massive sulphide bodies with similarities to the Clear Lake deposit itself. One is associated with a zinc-rich gossan. The other two are modelled at depths of 150 metres to 300 metres. No work has been conducted on the property since that time, and, therefore, these targets remain untested.